Wellness & Spa - Me time
Balance yourself
Make some time for yourself and leave your stress and daily routine behind you ...
Your possibilities in the wellness area at Hotel Sonnentau know no limits. Free your mind with a magical gaze into the Rhön and let the beautiful landscape serve as a mellow calmness. Our goal is to bring mind, body and soul together in harmony in order to help you find your balance again.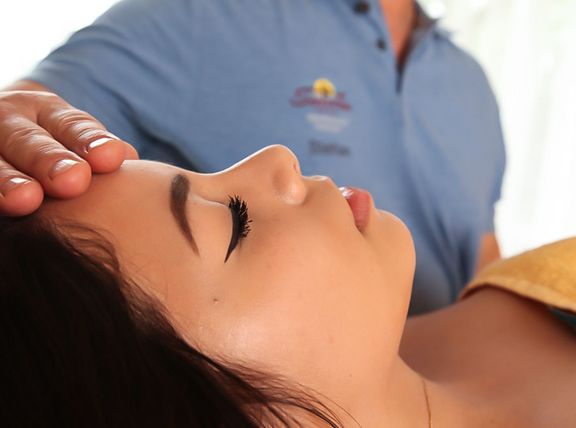 Balance-Point
Treat your body & soul
Sonnentau Spa Philosophy
Time for yourself …
Time for yourself …
These days it is not easy to be a balanced person, living in harmony. But when you travel away from all the noise and disturbance, and make your way into the Rhön, you can simply shut down, unwind and find yourself again – and when you are ready to return, you can go back feeling fresh and rejuvenated. As a genuine wellness hotel, caring for the wellbeing of our guests it is an integral component of our work.
What's notable about our wellness philosophy is our comprehensive observation of people: here we don't just see the tip of the ice berg, we also acknowledge the bulk which is submerged. In order to effectively provide our wellness treatments, we have a highly trained team in our wellness area. Our practitioners are not only professionally qualified but are also immersed in our philosophy.
Wellness Area with Balance
Our wellness area provides many opportunities for you to unwind and relax. Our primary focus was to create a retreat where relaxation, calm and recuperation take absolute priority. Find your internal balance and enjoy our treatments. Whether it be a salt cave (salt air exposure and inhalation), a water bed massage in our Hydrojet, a steam room session, a session in the panoramic sauna, a foot bath or a crystal steam bath - mind, body and soul will all melt together to produce a new feeling of ME. The swimming pool, hot tub and the quiet rooms all invite for you to stay and relax for a little longer as you enjoy an extensive stimulation of your consciousness.
In Balance-Punkt, the spa and wellness area of our hotel, we provide many unique and comprehensive wellness-packages. Let yourself fall into the hands of our qualified practitioners and experience a restful treatment. Wellness, relaxation, recharge – balance for mind, body and soul. There is definitely something on offer to meet your needs.

Selfness & Mindfulness
Find your emotional and mental balance
Our spa department - called 'Balance-Punkt' - is managed by Sonja Karlein, co-owner of the Sonnentau Hotel and wellness-expert. Alongside her tasks administration, human resources and marketing, she loves to make personal contact with her guests. Through the various, profound training programs she has completed over the years, she has been able to build a solid foundation which supports her views and mindset. Through personal consulting, Sonja can reveal the causes for mental, emotional or physical distress, and help tackle the issues so you can restore your wellbeing. Make sure you take time for the most important thing in life: yourself!
Relax and be mindful of the fact that you are enjoying your time ... Be it with swimming, sleeping, having a sauna session or a massage, drinking tea or simply reading in one of our relaxation rooms. Indulge and unwind!