Region Rhön – Area with faraway places
Feeling of being alive
During the whole year, the Rhön in the heart of Germany entices many people to come and experience the exceptional landscape and the natural beauty. The extraordinary marshlands lie tranquilly as the hikers peacefully wander through. This is the ideal feel-good environment for Hotel Sonnentau. Fresh wind breezes over the meadow and the flowers begin to dance … We at Hotel Sonnentau feel blessed to be able to call this region home!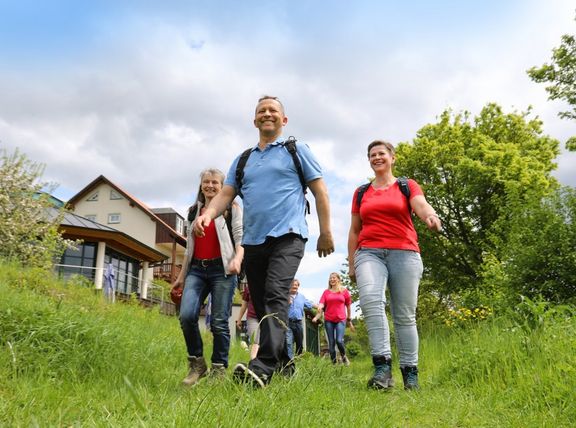 Outdoor activities
Scout out the region actively
The Rhön is an official biosphere reserve which offers diverse nature. Known as the land of open distances, there are many possibilities for visitors to keep themselves active and enjoy a diverse holiday. Exploring the Rhön with a motorbike is also possible here. The selection of various hiking tracks allows for visitors to experience the thrill of being on their own journey. Hike for your wellbeing! The 'Hochrhöner' is one of the most popular hiking trails in the heart of Germany which spans over 175km through the federal states of Bavaria, Hesse and Thuringia. Whether you visit the world famous spa city Bad Kissingen or the 928m high Kreuzberg mountain with its fantastic view: das Füllhorn an Zielen ist in der Rhön prall gefüllt! Or roughly translated: in the Rhön there are many things on offer to see and do!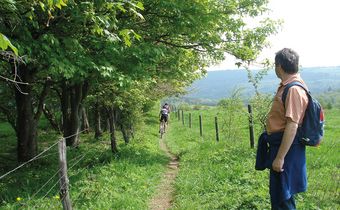 There is also a huge selection of outdoor activities on offer. The 'Kletterwald' (climbing forest) on the 'Wasserkuppe' (water peak) is a true Eldorado for everyone who is dedicated to ambitious climbing. Paragliding is also an option giving a special feeling of flying freely through the breathtaking nature setting. In the Rhön you can do this on 16 different ground and high-flying areas with all possible wind directions. Whether mountain biking, riding, motorbike tour, golf or water sport – experience the biosphere reserve and all of its 1000 possibilities!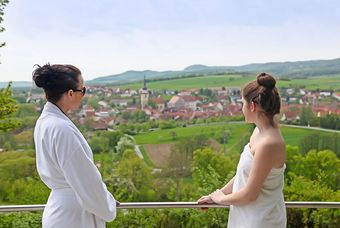 For those who do so much, they need to build up their strength and for this reason, the kitchen team at the Restaurant-Café in Hotel Sonnentau has dedicated itself to this very task with passion and professional expertise. We wish for you to enjoy all of our fresh dishes that we have passionately put together. The Rhön region invites for you to come and indulge!
The relaxation here goes best together with the quiet and pleasant nature which is at our door step. Wellness and treatments for body and soul have a high significance in Hotel Sonnentau.
Our region is easily accessible in the heart of Germany, allowing for you to have conferences, meetings and seminars. The atmosphere of the Rhön supports you so that you can go about your work in a positive, purposeful and relaxed manner.
Have an unforgettable stay in the Rhön in Hotel Sonnentau in your choice of hotel room, guest house or holiday apartment.