Meetings & Seminars away from hustle and bustle
Whether for work, education or self-realization: seminars and meetings are always a necessary part of life. Meetings however need to take place in a suitable setting in order to be successful and productive. Hotel Sonnentau has gained several years of experience in organizing seminars, workshops and meetings.
Simply explain and be understood: what many conference organisers and participants wish for, is already a reality with us. Our success formula is our special customized concept for your meeting. Meet up with your company in the Rhön - in the heart of Germany - and enjoy the lovely environment we have to offer in Hotel Sonnentau.
Learning with all senses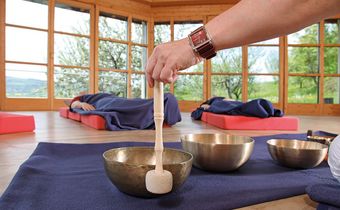 All customization options are available for you: we offer ideal conditions for companies and their business conferences as well as for external seminar leaders who want to communicate their knowledge for body, mind and soul. You can choose if you would like to rent our rooms and then plan your conference alone or you can organize for us to assist you with the planning.
And because wellness and life balance have been playing a major role in Hotel Sonnentau over the years, we have developed a large program offering various courses and seminars. It's also no problem to combine external events with our internal offers. For example, during the day you and your company can get together for your conference and afterwards you can finish off by enjoying a relaxing group session of Qi Gong. We can gladly advise you further to help you find something for your needs.
Successful seminars don't just happen: our rooms in the heart of the Rhön provide the base for productivity and wellbeing so that all participants can optimally contribute in teambuilding. Your seminars and meetings have the potential to excel, because we accompany you along the way and simultaneously fulfill all of your requirements.
From seating arrangements to individual customized facilities, the team from Hotel Sonnentau will gladly assist you with the organization and implementation of your wishes. The right technology, circle of chairs, flip chart, coffee, lunch, fruit platter – your meeting in Hotel Sonnentau will become a special experience. As you make your booking, tell us exactly how your seminar or meeting should go and advise us of everything you need. We at Hotel Sonnentau will make sure that you will be able to communicate efficiently and successfully.
Successful meetings don't just happen by chance: bright, friendly rooms appeal to the spirit, while geomancy and feng shui cater for harmony. The fresh air in the biosphere reserve Rhön will clear your mind and set your thoughts free – a most suitable atmosphere for a personalised seminar or meeting!
In 'Raum Maria' you can unfold the full potential of your creativity during your meeting – or, conduct a seminar together with a teambuilding exercise where you can together experience the challenges of nature. Our 'Raum Josef' provides comfort and easiness with its homelike wood and masonry heater. Additionally with its square form the room appears structured and orderly. For smaller events we have 'Raum Sonja' and other smaller rooms available.
Tell us your wishes for your meeting. We look forward to providing you with an optimal framework so you can construct your seminars and meetings.
Our rooms can host between 10 to 40 people. Meetings, conferences and seminars are bookable either with or without an overnight stay and customized catering. And after courses or meetings, it's possible to go and relax in our wellness area. Further possibilities for a successful end of the day are Rhön evenings, torch hiking or fitness activities - the ideal way to round off your meeting in Hotel Sonnentau!