Home Town Fladungen
The enchanting town fascinates visitors with its medieval flair. To this day most of the town's wall is still standing, surrounding the town. At the edge of town you can find the well-known 'Freiland Museum', a museum which teaches its visitors about how life used to be in the past. You can experience the old farms, churches, mills and inns on more than 12 hectares of land. After visiting the museum, we recommend a train ride on the museum train which takes you through four different towns in the Rhön.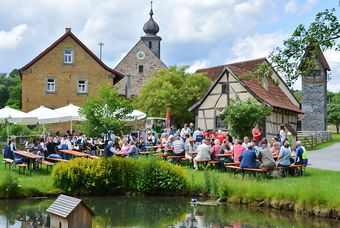 Another attraction is the 'Rhön-Museum' which informs visitors about the history of the Rhön and the earlier inhabitants dating back to 1921. The museum contains essential collections of folklore and protohistoric objects, which all have their own story to tell. Due to an ongoing renovation, the museum is currently closed and is expected to open again in 2021.
The outdoor swimming pool in Fladungen (Freibad Fladungen) attracts the young and the old during the summer season.
On the homepages of Fladungen and the Rhön you will find further information about sights, day trips and leisure tips for every season.