Our philosophy
Our motto "pamper yourself holistically"
Genuine
We act intuitively, but to the best of our consciousness
For us it is a natural process to make things possible for our guests within appropriate measures
We care about natural purity and conserving resources
In our kitchen we place high value on preparing our food with natural, regional and seasonal produce.
We respect nature and our fellow human beings
We always bear in mind the value and cycles of nature
Naturalness is something we view as encompassing mind, body and soul.
We value natural openness and humanity
Pampering
We pamper everyone at all levels.
We guarantee excellent service in all departments.
Pampering means to think and act courteously.
Our Heart is in the right Place
Hosting is our passion.
Openness and warm-heartedness are of the utmost importance to us.
At Hotel Sonnentau you will be encountered with a happy and familiar atmosphere
There is a feeling of warmth here
The Rhön is our home – here is the world fully in order.
Tradition and nostalgia are a part of us, however we strive to combine tradition with modernity.
Our values: Reliabilty & Balance
We deliver the performance that we promise.
Sincerity is a huge priority for us.
We make sure that giving and taking is balanced - be it with our guests, within our team or with our partners.
Our range of offers all provide quality and continuity in every department of the hotel, whether it be in the wellness department, in the guest rooms or in the restaurant.
The Sonnentau: History with timeline
1970 is the year where it all began ... where Maria and Raimund Goldbach established the Café - Restaurant Sonnentau with a bed and breakfast. Since then the Sonnentau has continuously expanded, adapting to changes and modernizing.
What does 'Sonnentau' mean?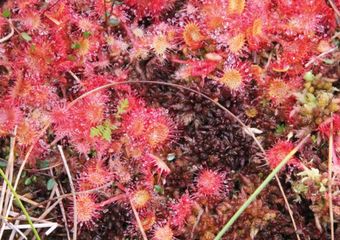 The 'Sonnentau' is not only a fascinating plant but is also the inspiration for the name of our hotel. The 'Sonnentau' or in English the sundew, prospers gloriously in the quiet marshlands in the Rhön. Previously voted flower of the year, the sundew is not only nice to look at but also possesses a healing property which aids in relieving breathing problems. Early in the morning when you wander along the trails of the marshlands, you can see the dew pearls on the petals glistening in the morning sun.